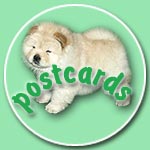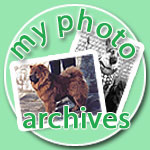 In this section we are going to gather everything concerning chow-chow-owner's life: souvenirs collections, stories about dog shows, presentations of our friends and so on.

We decided to start from the collections of chow-chow souvenirs.

Look and enjoy!

P.S. Everybody wellcome to send us the photos of your own private collection of chow-chow things. Just send the photos to owr webmaster.

Chow-chow souvenirs collection of Il'De Bote Kennel

Chow-chow souvenirs collection of Tatiana Abakumova, President of NKP Chow-Chow, Moscow, Russia

Chow-chow souvenirs collection of Olga Tsebrova, Ekaterinburg, Russia

Chow-chow souvenirs collection of Valentina Anisimova, Baltik Tops Kennel, Saint-Petersburg, Russia

Chow-chow souvenirs collection of G. Lomakina, Lav Lap Top Kennel, Moscow

Chow-chow souvenirs collection of V. Zyabreva, Zolotoi Medved Kennel, Moscow